Labels with Thread / Tags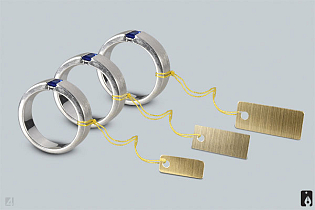 Jewellery
labels with thread
or swing-tags are also called tie-on labels or just tags. They can be regarded as the original form of the label par excellence and are also the traditional form of jewellery labels. In the past, when it came to attaching information to a product, the obvious solution was to attach a written piece of paper to it with a thread - the
swing-tag
was born.
The label with thread - a classic
Classic
labels with thread
for manual marking are among the historically oldest labels in the eXtra4 Labelling Systems range. Our traditional labels with thread or swing-tags are therefore made of sturdy cardboard or plastic and are not suitable for the use in label printers because of the attached thread.
Please pay attention to this symbol when choosing your label for marking by hand:
Today, however, we mainly manufacture
thread labels
for use in label printers. They are made without thread from self-adhesive materials and marked by computer - usually using a
thermal transfer printer.
The thread is attached only after the printing.
---
Individual Labels with Thread
Custom-made examples for jewellery tags


We develop our own shapes for labels with thread according to the customer's wishes. In case of self-adhesive shapes, we can colour the label in any shade. In the case of non-self-adhesive labels with thread, we are dependent on the range of materials available on the market, but endeavour to implement our customers' individual ideas.
We will be at your disposal to print your label with thread in your company colours. In glossy hot foil stamping your logo will look particularly noble.

---
Labels with Thread - traditional or modern
Labels with thread from stock usually have a rectangular shape, are white and - if not self-adhesive - have a white thread. Self-adhesive labels with thread can be attached to jewellery with pre-knotted threads on rolls that are ready for use or with security threads

Tags made of plastic material with metallized surface in gold and silver equipped with colour-matching thread are especially attractive for manual marking.
---
Standard Threads with labels for Handwriting

Tags to be inscribed by hand are knotted into a cotton thread, standard white, thickness 40, 7 cm long with a usable length of 5.5 cm. We can offer threads in other materials, colours, lengths and thicknesses on request.

Standard Threads with labels for label printers
Self-adhesive labels with thread
are not equipped with a thread until they have been marked in a label printer. For attaching a thred we recommend our
pre-knotted threads on a roll
. The thread is looped into label shapes with holes. In case of label shapes without a hole, the thread is inserted into the fold between the labelling fields before they are glued to each other.
Security Threads for tags
For jewellery with more security requirements, we recommend security threads from our range. Once closed, their locking mechanism can not be reopened. The thread must be cut to remove the label.


WrapTags - the Tag with a Plus in Security
A high-quality appearance give security threads in combination with self-adhesive labels with thread of the WrapTag type.

In that case, two additional label fields made of glossy, transparent film enclose the printed labelling fields as soon as the label has been folded. The tag looks heavier, is stronger and less susceptible to dirt, damage or manipulation. By gluing in a transponder, WrapTags can also be used as RFID tags.
WrapTags with Thread
and their Application
For application, the partial surfaces of a WrapTag are folded along their edges and, starting at the imprint, glued to each other in a wrapping process. The two transparent label areas encase the printed opaque ones. The label virtually wraps itself in its own protection cloak. Thanks to perforated parting lines, folding is easy and succeeds with a perfect fit. Pre-punched holes meet each other exactly without effort. The resulting opening is used for a thread to attach the WrapTag.

Tutorial WrapTags for jewellery



Tutorial WrapTags for watches


© 2023 Ferdinand Eisele GmbH • Carl-Benz-Str. 17 • D-75217 Birkenfeld (Pforzheim) • Tel. +49 7231 9479-0