Labels for Pads / Rectangular labels for jewellery, watches and gemstones

Labels for Pads, Boxes and Displays
in the range of eXtra4 Labelling Systems include
small self-adhesive labels in rectangular shape
. These labels are mainly used for
pricing and on packaging
for jewellery, watches and gemstones. They are marked with individual data and bar code in thermal transfer printers.
Labels for Pads, Displays and Boxes
can also be marked by hand, but special rectangular labels for handwriting cannot be found in the eXtra4 product range.
Individueal Labels for Pads, Boxes and Displays
Customer-made examples for rectangular shapes


Of course possible are labels for Pads, Displays and Boxes with logo imprint in individual corporate colors. We are happy to develop label solutions according to your wishes, colour the label in any shade or print it with glossy hot foil stamping.

---
Universal label in infinite variety
Labels for Pads, Displays and Boxes as rectangular shapes are a standard solution among self-adhesive jewellery labels. This is why we stock tools in such a large variety of sizes that it is impossible for us to list them all clearly.

Our catalogue is therefore limited to the most common shapes. If the rectangular shape with your desired dimensions is not listed in the catalogue, please contact us. In our tool pool we will certainly find a rectangular label, which, if not exact, will surely come close to your ideas and can be produced immediately.
---
Quality stickers
for jewellery and watches
individually by digital printing
Quality stickers announce central core properties directly at the product. At first glance, they provide information about important incentives to buy such as metal finenesses, stone qualities, processing methods and consumer information. Formerly printed on sheets in our product range, we now produce quality stickers individually by digital printing. The desired wording is printed in black or colour on self-adhesive metallic labels.
To the brochure Quality stickers:
Adhesive labels and decorative labels


Larger rectangular shapes, e.g. for logistics and shipping, can be found in our assortment under adhesive labels. Here as well, we have numerous shapes on stock. Ornamental decorative labels for advertising purposes or the representative demonstration of your brand and company address can also be found in this range. There we also provide oval and round shapes.
Self-adhesive labels
for industrial requirements
Anyone interested in self-adhesive labels with special material and adhesive requirements can gain an insight into our competence in the production of
labels for industrial requirements.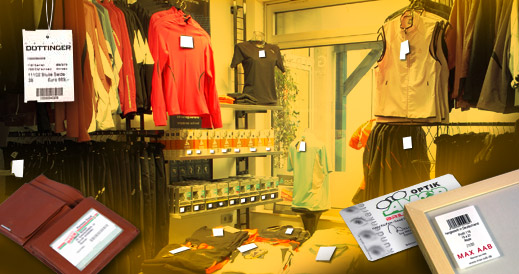 ---
© 2023 Ferdinand Eisele GmbH • Carl-Benz-Str. 17 • D-75217 Birkenfeld (Pforzheim) • Tel. +49 7231 9479-0