SECURITY LABELS - PROTECTON POSSIBILITIES



Security Labels / Guard Labels
Labels to protect against tampering,
counterfeiting and returns fraud
Guard labels help prevent. Nobody can take them off and reattach them unnoticed, because they destroy themselves irreversibly when they are removed. Security labels are not undetectably interchangeable with imitations because they have features that make them unique and counterfeit-proof. Guard labels speak a clear language, because they signal unmistakably:
"Anyone who removes me is obliged to purchase!" They offer
protection against criminal fraud
, cheating and
abuse of consumer rights.
Security labels
avert damage - especially also in
e-commerce
.
Labels with multiple benefits
Guard labels
can be produced as loop labels, but also in any other shape. Despite their special features, they can be printed with any data as standard labels using a
thermal transfer printer
. For example, a
security label
can be used for price marking or as a representative seal to guarantee the pristine
original condition of a branded product
. Individually combined, various protection factors result in a
label with a unique character
.
---
Individual security labels / Guard labels
Custom-made solutions with various protection features

Which protection features make sense depends on the
individual security requirements
. We combine the appropriate options for your application. We also keep an eye on your design requirements. If you want to use
guard labels
and at the same time take advantage of the
seal effect
for your own brand, then the imprint of a representative logo is a good idea. We realise your ideas with professional four-colour printing and glossy metallic embossing. The functional
security label
thus becomes a high-quality warranty seal. It guarantees
the intactness and genuineness of the goods
, at the same time image effective and reliable.
---
The security label - one-of-a-kind
The essential aspect of a security label is its inimitability. Every label wants to be safe in form and function from resourceful counterfeiters. That's why we hardly stock any standard security labels.

Which type of label you choose depends entirely on your application. The full range of our production tools listed in our catalogue for shapes and dimensions is available for you to choose from.
---
Security Labels / Guard Labels made of self-destructing material
---
Security labels / Guard labels with hologram
Protection in a representative look
A hologram increases the
counterfeit protection
. So replacing the original
security label
by an imitation on possibly counterfeited goods is made difficult.
Prefabricated holographic foils
with a standardised security note or symbol, e.g. a lock, are used. For special security requirements it is possible to have individual
hologram material
produced. If you are not afraid of kost and effort, you can integrate your company logo or your own warning statement.
The use of holographic foil does not restrict the further use of the
security label
, for example in price labelling. Holographic patches can be printed on with standard
thermal transfer printers
in scratch-proof quality and resistant to ultrasonic bath.

Brochure GUARD LABELS:

---
Security Labels / Guard Labels with blacklight-sensitivity
Hidden counterfeit protection
Blacklight-sensitive print on a security label remains invisible in daylight and artificial light. As known from the authenticity control of money bills, black-light sensitive areas can only be detected under a special lamp. In principle, blacklight-sensitiv printing can be overprinted with individual data via thermal transfer printer.
Blacklight-sensitive printing is done with prefabricated foils. Three different film types are possible:
The first film type shows a readable print image under normal light conditions, like any standard print. In addition, a standardized pattern visible only under black light appears within the printed areas.
The second option uses a film that prints exclusively blacklight-sensitive. The printed image created in this way, e.g. company logos or texts, can therefore only be seen illuminated accordingly.
As a third version, the complete security label is covered with a blacklight-sensitive laminate. Blacklight then illuminates the entire label surface, but not the data imprint.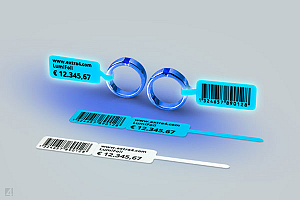 ---
Security Labels / Guard Labels with warning instruction
Protection through clear words
Returning worn or used goods with reference to the
right of return
and reclaiming the price paid is widespread, especially in
e-commerce
. Here plain text helps to put bazen consumers in their place. A warning message on the
security label
clarifies unmistakably:
Anyone who removes the label exceeds his authority and commits himself to purchase.
If the label is too small for text, a symbol, e.g. a security lock, can also signal the
seal character
of the label. This makes it immediately clear that if the
security label
is missing or damaged, the consumer has forfeited his
right to a return
.

Brochure GUARD LABELS:

---
Security Labels with Pattern Effect - PRIME-Guard Labels
When a PRIME-Guard Label is applied, the white permanent adhesive bonds between the transparent label areas to form an almost opaque layer. An attempt to separate again the firmly adhering adhesive surfaces of the label once closed causes the adhesive film to tear in a defined structure. The label areas show a transparent triangle pattern. It cannot be revised, not even by fitting the separated surfaces together exactly. This makes every manipulation attempt obvious and verifiable.
Security Labels with Splitting Effect
When first attached, the permanent adhesive bonds the adherent label surfaces so tightly that an attempt to reopen the label will split the material into layers.The split label areas are unglued, so they do not stick and cannot be rejoined immediately. The label cannot be easily reapplied but is permanently damaged.
Guard Labels based on Destruct material with a split effect act as a preventive measure against fraudulent reapplication of labels once removed to goods that have already been used.
Threads with the security plus
For increased security requirements, we can also recommend the use of
security threads
from our range of fastening accessories. The threads consist of a
tear-resistant textile cord
and have a
snap lock
. Once closed, the special mechanism
cannot be opened again
. The thread must be cut to remove the label.
Security threads are used with self-adhesive
tags or thread labels.
They are particularly representative when combined with self-adhesive thread labels of the
WrapTag
type. With this type of label, two additional transparent areas wrap the label as soon as it is folded.
---
© 2023 Ferdinand Eisele GmbH • Carl-Benz-Str. 17 • D-75217 Birkenfeld (Pforzheim) • Tel. +49 7231 9479-0