An export pillar retires
Ferdinand Eisele GmbH says goodbye to a multilingual specialist in sales after almost two decades
Birkenfeld, September 1, 2016. Ms Montserrat Casals Freixas has signifi-cantly facilitated Ferdinand Eisele GmbH's overseas success with her tal-ent for languages and her sales skills for about 20 years. Since early September the labelling and identification technology specialist from Birkenfeld near Pforzheim has to allocate export sales to other shoulders now: Ms Casals Freixas retires and Ms Carla Herrera-Stanitzki will be her successor.
Born in Barcelona and based in Pforzheim since 1974, Ms Casals Freixas of course masters German perfectly besides Catalan, the language of her home region of Catalonia, and Castellano, the classic Spanish. In addition, however, she also speaks four more languages fluently, namely English, French, Italian and Portuguese.
Equipped with these language skills, she joined the Ferdinand Eisele GmbH sales team as a part-time employee in 1997. Since the early 90s ...


... more
press release from 01.09.2016
more pictures in the folder at
Montserrat Casals Freixas (left)
with her successor in the sales
team at Ferdinand Eisele GmbH,
Carla Herrera-Stanitzki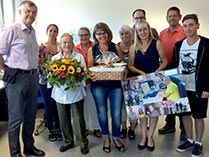 The sales team at Ferdinand Eisele
GmbH with CEO Alex Schickel (left)
says farewell to Montserrat Casals
Freixas (at his right)